This challenge to ONLY use paper! Card, layout or other project – only paper and adhesive is allowed!
I had added a paper journaling sticker to the page (not sure if that was legit) and then someone asked if you could add journaling – apparently pens were also not allowed! Geez. So, that's why we have some random jelly beans next to Oak on the bottom of the page. haha. (PS Don't tell but I'm adding my journaling sticker back before I put it in my album! LOL!)
Here is my layout for cropped challenge #4 (Whoops – I totally missed #3! Oh well!). The challenge was to use 7 circles and the color teal – I have many circles if you count the buttons! haha.
The Cropped mystery box challenge #2 was to use this special paper called Paper Layerz to create 9 mini layouts. After researching this paper some more, I found out it's actually made for creating die cuts with your digital or manual die cutter – so you get 9 coordinating colors from 1 sheet of paper. Kinda cool especially for those layered designs!
I hemmed and hawed (or whatever that saying is) over what to do with this for awhile. My original plan was to make a mini book but then I looked at the colors again and decided it matched some of the accent colors we're doing in the baby room – and why not create a little "family tree" picture frame for the baby? Conveniently, it fit all the members of our immediate families on there too. Sweet! I decided to accent each mini layout with a little cut out of something that person likes, or their hobby. I think it came out pretty cute though I need to work on my project photography skills still… I think maybe next time I'll not have it in the frame when I'm taking the photo
The glass causes all sorts of issues! Anyway, I had fun, and hopefully it'll be educational to our baby some day!
I could call myself an "artiste" after creating this fine canvas creation, but that would be a big lie.  A friend from college, Nichole, is having a little baby girl this December!   For her shower, she registered for a bunch of cute owl-themed things for the baby's room.  I saw a canvas on the registry and thought – hey, I could totally make that!  So, I basically stole the idea for this from some baby home decor company.  Oh well!  haha.
So I did.  It started off with a regular cheapo canvas from Michaels that I painted pink.  Then I really went at it with my Silhouette.  I bought the owl image, which included the branch and its leaves, and then used some shapes I already had for the grass and flowers.
The Silhouette I have only cuts a regular letter-sized piece of paper, up to 8.5″ wide.  I wasn't sure if I'd be able to effectively fill the large canvas (I don't remember the size, but it was probably 16×20″ or maybe a little bigger).   Didn't turn out to be a problem at all – the big secret was to cut the branch using the slice tool into 3 separate pieces.  Then, I positioned the owls on the strategically so the joints in the paper didn't show.
I glued everything down with Claudine Helmuth multi-medium.  I found this stuff pretty nice to work with. It has a matte finish.  I glued all the pieces down first and let them dry.  Even though it's matte, I did find that you could see the adhesive if it was elsewhere on the canvas.  I ended up doing a few layers of multi-medium over the whole thing, which alleviated this issue and sealed it all up.  It works very similar to mod podge, but leaves a less sticky finished surface.
I don't know if shows well in the picture, but the paper is all lightly patterned.  It's mostly from the Little Yellow Bicycle Fresh Print Clothesline collection. (Thanks to Belinda for this generous hook-up!).  The color scheme was just perfect for this, and since at the moment I don't use much pink or pastels, it was a great way to play with the paper.   I think the orange and purple pieces came from an old K and Company collection pack that I had.
This was a ton of fun to make, and now my brain is contemplating how to make a more "adult" canvas for our living or dining room.  You could definitely get creative with the paint layer, and even paint over the shapes as well, or use them as a mask.  I think it could look pretty chic with some nice organic flower or leaf shapes.   It's all the fun parts of making art without having to do the difficult drawing part.
PS I'm in uber crunch mode at work now, so I can't help but see about 900 "technical writer" style/error issues in this post.  It's quite annoying but I'm trying to ignore it.  The word "this" without a noun after it?  Vague pronouns?  Sound the sirens, people…  I have to remember, this is a BLOG not a warranted technical document.
OK, bye for now!
I haven't stopped scrapbooking! I made these layouts awhile ago and just realized I never put them on this site. Belinda sent me the Studio Calico "Candy shop" kit earlier this year and I got addicted and used every single piece of the kit. Here are a few of my creations: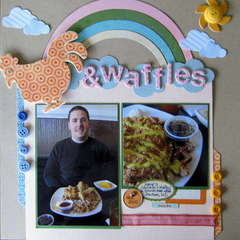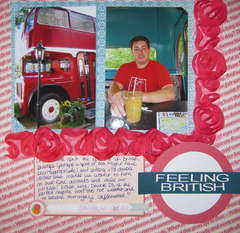 I need to get on the ball and post the rest of the layouts I made. I even ended up ordering the "into the woods" kit, and used about half of that one so far. I don't know how people can use a kit a month though, I would definitely be behind by now!
In other scrappy news, I'm pretty excited about attending the Creating keepsakes convention in Charlotte this weekend. I'm taking a class on how to make a mini-album with sticky back fabric (it's called fabrips) so that should be fun. The vendor faire was pretty cool when I went a few years ago, so we'll see, hoping I can get some deals! I'm mostly excited about the going to the Studio Calico booth (OK this may be borderline obsession).
Lots of other updates and pictures to post, since I've basically fallen off the face of the bloggy earth, but that's for another day! talk to you later!
Well, you've already seen the photos from our cruise earlier this year, but I thought I'd share the mini book I made as well. I finally decided to fill up one of the projects I made at CKC a few years ago (think this one is from 2009)– this cruise seemed to be a perfect fit for the SEI clear mini album. Since it was semi-made already, it made the project super fast – only a few hours! The thing I am liking about mini albums is how easy it is to include random postcards, your room keys, etc. in the book – just punch a hole in it with your crop-a-dile and stick it in the ring binding! (Is Oak the only one that is convinced the crop-a-dile is a castration device masked as a scrapbooking tool?).   Putting these items right in the binding is so much easier than trying to get them to look right on a scrapbook page.  The clear aspect of it does present a challenge because you have to think about how the backs of the pages are going to look. This was a little tricky for me, even with the pre-done aspect of the album. I definitely would only want to do a super small clear album, or maybe mix the clear pages in with regular ones in the future.
Here's the cover to give you an idea:
See the rest of the album here.
OK, I realize that our trip to the Midwest for Belinda's wedding was oh, 2 years ago. But hey, I was kinda missing my entire scrapbooking set-up after the trip, so whatevs.
This is presented in no particular order…
Well, here are the photos from the whole reason we went to Chicago – the wedding! I didn't get a ton of great pictures but enough to tell the story. Oak even caught a photo at the exact moment when I was about to run over the groom's sister during the Electric Slide. Good thing that situation got intercepted, because I'm pretty sure I outweigh her by about 50 pounds, ha ha.
Good thing the wedding was first, cause I'm not sure I would have fit into my dress after this crazy trip. I know we were trying to eat the "local specialties" — do real midwesterners eat this much cheese? Geez louise. But it's so tasty. Here's my first Chicago deep dish pizza experience. I recommend doing it at least once. I have to say this was one of the richest meals I've ever experienced, considering the fact that it consists of exactly 1 item. The small pizza, about 4 hours of walking in the cold later, and Oak and I STILL weren't hungry! Unbelievable!
Then, we continued on a tour around the midwest to experience more cheese. Well, in Wisconsin you'll come across cheese just about anywhere, even if you're not looking for it. This trip, we went to Madison and the Wisconsin Dells, and hit every cheese outlet in between. I noticed a special theme with the cheese outlets, apparently they aren't afraid that the giant mice they have as mascots will eat all the cheese inside their stores….
I promise to return soon with more layouts… I was testing out my camera location and lighting situation for photographing the layouts — I think these came out pretty good so next time I'm home with natural light (which, somewhat rare with the crazy Daylight savings-ness causing it to be dark at 5pm..), I'll get right on it!
My friend Elaine had a baby shower last month. I got the crazy idea that I was going to make her a baby book. Once I got in the groove and made the initial decisions, it actually didn't take that long to make. I based the page ideas off the baby book at younghouselove.com. Of course, I couldn't just use their format, so I re-created some of the fill-in pages in Adobe Illustrator. After browsing Archivers for an hour for inspired ideas, I decided to use the Little Yellow Bicycle Snugglebug collection for the main embellishments, though I also mixed in a bunch of stuff that I already had – great excuse to use up a bunch of pastels that I never use otherwise!
I cut the titles out with my Silhouette. Otherwise the layouts are pretty simple, I put photo mats in that would fit 4×6″ photos so it's super easy for Elaine to fill in! Enjoy:
Here is the book for your viewing enjoyment:

Find more photos like this on The Crop Circle
Well, this project actually came to a semi-conclusion over a month ago (or more!) but I've been lax on my posting.  Bad Carrie.
You might remember the awesome plans I posted based on an article in Family Handyman.  Well, we went ahead and built it!  It looks pretty sweet if we do say so ourselves:
The best part is that the shelves are adjustable.  I underestimated the number of shelves that would work (I have a lot of small stuff!) so I think eventually we need to cut 3 or 4 more shelves.   But, this is pretty much the state that it's in now, besides the closet now having its doors attached (yay!) and a lot more stuff shoved in there.
The room is still in progress, but it's getting close.  I got a second desk that I've been wanting from Ikea, and we're planning on hanging the pegboard up above the desk tomorrow.  Other than maybe hanging another shelf and some decorative items, that should conclude the craft room (for now at least!).    Who knows when I'll post the "final" pictures, so here are a few more in-progress photos.
Here's the desk I already had.  This will become the laptop/silhouette cutting station.  I made the curtains in the background!  Oh yes. 
I started sorting my small embellishments into color jars, in Stacy Julian's style.  (She's a scrapbooking "guru" to those of you that don't already know.. haha).  I realized I have very little purple stuff.  Which makes sense, since I almost never use purple on my pages either.  I guess I don't make many girly looking pages – that's why I have to have a really girly room. haha
I have to say, so far the color jars really have come in handy.  It makes a lot more sense (in the embellishment phase especially!)  to say, Oh, It would be nice to have a flower here and then figure out which color flower you want instead of digging through 8 million tiny packets of flowers.  Yes.  So, so far I recommend this organization method.  The jars came from Oak's family's basement (the land of many mysterious treasures), and hopefully they can bring me some more of them so I can sort the neutral colors out some more.  That's by far the most "full" jar.  But, it looks cute and that is happiness!
Progress has been made on the scrappy chica cutting machine front.    I've done more than just cut out letters.  I finished a Christmas-style title that has little trees as part of the background.  I'm also working on a tracing of a map of India, which I'm planning on using as a title page for that book, with dots for each city.  (Or , I am seriously considering Belinda's suggestion of using bling-bling for this purpose!)
Another thing I'm finding this handy for is to create my own version of licensed scrapbook embellishments.  Of course, I'm sure this is violating some copyright law, so I won't share those files, but I think it will be pretty neat to have the Warner Brother's logo on the page about the studio tour that we did there, for example.  I figure as long as I'm not selling, sharing, or otherwise profiting off of the cut-outs or the files I'm okay.  Heck, you can acquire tons of vector files of logos for free on the web.
I now know that I took those courses in college that involved Adobe Ilustrator for a reason. bwah-haha.  More soon.