How do you like my new smile? I've been practicing the last few days and I thought I'd debut my new smile for this hat post. I asked Papa about Saint Patrick's day and he didn't have any valuable information. Papa did start blabbing about a snake myth including some old guy who chased them out of Ireland. We'll I looked Saint Patrick's day myself and found out that I got shorted. Where was my green formula!?
Alright you caught me at moment of weakness. I thought I could handle 8 ounces of formula.

This Christmas bunny predates Radar – it's been in Mom's Christmas collection since she was a teenager! And how perfect to have the Santa baby and Santa bunny spend time together. The red and white jammies are a Christmas eve gift from meemaw – yet another cool monster outfit!
Stone is now enjoying serious attention from both grandmas, grandpa and his aunt and has now met most of the neighbors! What a well-visited boy
He is blessing everyone with beautiful baby smiles!!
Merry Christmas everyone !!
This challenge to ONLY use paper! Card, layout or other project – only paper and adhesive is allowed!
I had added a paper journaling sticker to the page (not sure if that was legit) and then someone asked if you could add journaling – apparently pens were also not allowed! Geez. So, that's why we have some random jelly beans next to Oak on the bottom of the page. haha. (PS Don't tell but I'm adding my journaling sticker back before I put it in my album! LOL!)
Here is my layout for cropped challenge #4 (Whoops – I totally missed #3! Oh well!). The challenge was to use 7 circles and the color teal – I have many circles if you count the buttons! haha.
The Cropped mystery box challenge #2 was to use this special paper called Paper Layerz to create 9 mini layouts. After researching this paper some more, I found out it's actually made for creating die cuts with your digital or manual die cutter – so you get 9 coordinating colors from 1 sheet of paper. Kinda cool especially for those layered designs!
I hemmed and hawed (or whatever that saying is) over what to do with this for awhile. My original plan was to make a mini book but then I looked at the colors again and decided it matched some of the accent colors we're doing in the baby room – and why not create a little "family tree" picture frame for the baby? Conveniently, it fit all the members of our immediate families on there too. Sweet! I decided to accent each mini layout with a little cut out of something that person likes, or their hobby. I think it came out pretty cute though I need to work on my project photography skills still… I think maybe next time I'll not have it in the frame when I'm taking the photo
The glass causes all sorts of issues! Anyway, I had fun, and hopefully it'll be educational to our baby some day!
So, I don't think I ever revealed on the old blog-o that we're expecting a baby boy this October. So – surprise! I'm pretty sure if you read this blog you already knew that anyway.
So, I'm entering month 8 of being pregnant now. Not too bad. I think the main thing I'm not enjoying is all the "restrictions" on my life; what I can do / not do, eat / not eat, etc. Yeah I might be going on a coffee/sushi/sweet tea/soft cheese/beer bender at some point after the baby is born. haha.
Last weekend, Oak's family was visiting – and, a big surprise to me was that our friends and family threw me a surprise baby shower at Lake Crabtree County Park! I'm still kind of trying to figure out how it all happened but Daniela was supreme planner / project manager of the whole thing. Then she had some work stuff come up and she couldn't attend the party! Ugh!! But, Donny did an excellent job of taking over (haha I'm sure it was exactly what he wanted to do!). Some other friends did a bunch of cooking (including a WHOLE PIG), and my mom and Dave did the decorating. The Millers worked their ultimate skills in deception that day. Yeah, Oak and his dad were cutting down a tree in the front yard when I left the house to "go shopping for my birthday gift". Oak's mom dodged every random question I had, and came up with the grand lie about why we were going to the park in the first place. I was clueless until I got about 10 feet away from the whole thing when it all clicked! OMG! It was so crazy! LOL
The other shocker was how many people came and all the wonderful gifts we received! Even people from out of town sent gifts. Now we just have to figure out what you're supposed to do with all this stuff! haha check out the current state of the future nursery:

Thanks again everybody!!! xxooo
Nichole and I are doing the Cropped mystery box challenge! We've each got a box of goodies and a list of challenges to complete with the contents of the box.  There are two challenges before the event later this month that we're working on.  Here's challenge #1 of 2
The box came with a DVD that shows a ton of stamping and inking techniques.  The first challenge was to use the inking and masking techniques from the DVD.

I decided I was going to do a background with clouds. The first one I did, I  punched clouds out using the Fiskar's cloud punch and then sprayed blue ink over punched clouds.  Iit looked like a sad stormy cloud day. Kind of ironic considering the sentiment I was going to use says  "happy day"
So, I decided to create a stencil  with the Silhouette of the clouds. I used the Studio Calico Mister Huey Opaque White to create the clouds. The grass was done with the inking technique shown in the video with baby wipes and pigment ink. I also put some green chalk over the top of it to fill it in some. Then, I added a fun bicycle stamp (thanks Belinda!) and a tree cut out from Nichole's Cricut. I finished up with some things from the mystery box – little sequin "apples" and some coordinating ribbon.
It was a lot of fun to make!
I was super excited to be invited as a guest to the DYSU challenge "Inspired by the DT"! I had a lot of fun using the image and made a fun card for mom!
You can check out the rest of the entries here.
The door painting sweatshop is open yet again upstairs!! I'm now painting all the MAIN FLOOR doors (and trim.. can't leave that off). Of which, we have only 10 interior doors this time and 3 exterior doors. When we moved into this house I was like, OK we don't need all these doors and we should get rid of some of them (we have them to close off the family room from the front of the house, the dining room from the kitchen, to the stairs of the bonus room, etc) but I've come around on them. Mostly because they corral the rabbit very effectively and way more attractively than a baby gate or a piece of insulation foam (our other current / past barriers).
The trim does look much better painted, than the stained, scratched, gouged, and generally grungy look we had going on before. However, I'm pretty sure I'm developing some kind of carpal tunnel or tennis elbow from all this sanding and painting. For the kitchen, I'm dividing the work into several smaller sections because it would probably take me about 8-10 hours to do one coat on the entire thing. I'm not even kidding. Either I'm a slow painter, or we have a f*load of trim yo.
Evidence:  it takes me 3 hours for our pantry and basement doors, crown molding trim in one half of the kitchen, and the bay window! Times — oh 4 coats of paint so far! OMG! I've learned, that apparently two coats of primer is much better way to go for a lighter paint color.  I'm pretty sure that still ends up with 4 coats in the end, but at least it's using up the primer paint instead of the good stuff.  Not to mention you can recoat primer in a much shorter time frame than the regular paint (oh, the many tips I have learned..)
In other news, our family room trim is just about DONE other than some touch up!  It's getting almost non-construction-site up in here people!  Time to decorate!  Yay!
I haven't stopped scrapbooking! I made these layouts awhile ago and just realized I never put them on this site. Belinda sent me the Studio Calico "Candy shop" kit earlier this year and I got addicted and used every single piece of the kit. Here are a few of my creations: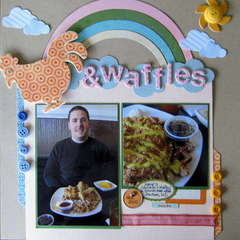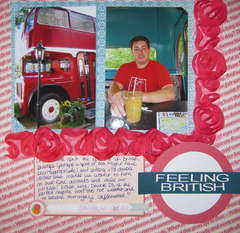 I need to get on the ball and post the rest of the layouts I made. I even ended up ordering the "into the woods" kit, and used about half of that one so far. I don't know how people can use a kit a month though, I would definitely be behind by now!
In other scrappy news, I'm pretty excited about attending the Creating keepsakes convention in Charlotte this weekend. I'm taking a class on how to make a mini-album with sticky back fabric (it's called fabrips) so that should be fun. The vendor faire was pretty cool when I went a few years ago, so we'll see, hoping I can get some deals! I'm mostly excited about the going to the Studio Calico booth (OK this may be borderline obsession).
Lots of other updates and pictures to post, since I've basically fallen off the face of the bloggy earth, but that's for another day! talk to you later!